The Structure of the Church(The Church of Christ) Lesson Two
LESSON TWO: SOME PERTINENT FACTS ABOUT CHURCH ORGANIZATION/CHURCH GOVERNMENT.
INTRODUCTION
In this lesson, we shall discuss three pertinent facts concerning Church Organization or Church Government.

These facts are sometimes called The beginning facts about church organization.

They are as follows:
Every Organization must have leaders.

Every organization must have followers.

Each group must give cooperation to the other.
EVERY ORGANIZATION MUST HAVE LEADERS.
Leadership is very important in every organization.
When there is no leader in an organization, we see chaos, confusion, disorderliness etc.
Jesus was a leader (while he was here on earth), and used to have many followers.
Mathew 9:36 teaches us that He often had compassion on the multitudes because they were as sheep having no shepherd(leader).
Leadership is important in every sphere of life.
Shakespeare once said, when two people are riding a horse together, one person must take the lead, as the two cannot be leaders at the same time.
Even among groups of animals like the sheep, there must be a leader.

The same is true with groups of men.
God saw that a human family needed a leader, and so he created the husband as the head (Eph. 5:23).
Nations of the world must have rulers and leaders to rule their people.
Therefore, God has ordained that there be Kings and governors in the system (1 Peter 2:13,14).

Groups of human laborers will do a far better work when there are good leaders to superintend them.
In all of these things, we can rightly say that God's plan for leaders in the church is a reasonable plan.
EVERY ORGANIZATION MUST HAVE FOLLOWERS.
Just as every congregation must have a leader, so it is also true that every congregation must have followers.

Jesus once said that every city or house divided against itself shall not stand (Matt.12:25)
Even with good leaders in a congregation, every congregation must also have good followers.
Following is as essential to the progress of an organization as leading.
However, many people do not consider followers to be very important.
Followers need to be trained as to how to follow.
God expects those who follow to be good followers.

They must be taught how to follow.
EACH GROUP MUST GIVE COOPERATION TO THE OTHER

.
Good leaders and good followers must know each other very well.
In John 10:27, Jesus said these words: "My sheep hear my voice, and I know them, they follow me."

Jesus is the Shepherd (Leader) and the Sheep (followers) hear the voice and follow Him, and He takes care of them.
The Leaders are to know their work very well, and the followers are to do the same.

Both the leaders and the followers are to work in harmonious parallel.
They are to cooperate with each other.

Leaders should appreciate the place of the followers, and the followers must respect the work of leaders.
The Bible likens the organization of the church to a human body (1 Cor.12:12).
The feet should not feel unimportant just because it is not the hand (verse 15).

Also the eye should not say to the hand that it does not need the hand.

Even the smallest parts are necessary and important in the body (1 Cor.12:20-26).

These things are also true in Christs Spiritual body, the Church (1Cor.12:27). There should be no jealousy, hatred, bitterness of leaders and followers.

There must be consideration of followers by leaders.

There must be total respect of leaders by the followers.

All members in the congregation must work together by doing well the task which each is able to do.
Prepared by Joseph J. Foray Snr. (Elder/Minister. Church of Christ, Oforikrom Assembly, Kumasi, Ghana)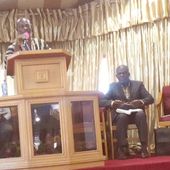 The Structure of the Church (The Church of Christ).Lesson Three - African Reality
LESSON THREE: WHAT IS THE CHURCH? INTRODUCTION: This Lesson on "What is the Church?", is a kind of review of what we have already studied in Sunday School this year. There are four definitions we ...
http://africanreality.over-blog.net/2019/09/the-structure-of-the-church-the-church-of-christ.lesson-three.html