Prayer: Fight the Good Fight of Faith. Fight on
Be strong therefore and let not your hands be weak: for your works shall be rewarded. 2 Chronicles 15:7
Everything is undergoing a degeneration process in life. Resources continuously get depleted, the body grows weaker, our energy levels go down, excitement about our dreams and aspirations takes a dip, our pockets get dry of cash and so on.
What the Law of Entropy?
Entropy is the small amount of heat that is necessarily radiated away in any energy conversion process. Left by itself, Energy will naturally flow from hot to cold and not the other way around.
This means that as life goes on, your energy, passion, resources starts to deplete day by day. It's a natural occurrence.
The question is how can we hold up and maintain our strength and energy levels in life. The above scripture encourages us to be strong and not let our hands be weak. That we ought to keep fighting on; even though the tide is against us. We ought to make effort, to work hard and to pray for divine strength to carry on and be over-comers.
Five Prayer Points of Focus
Prayer: To hold on to our faith in God. To keep watering and adding to our faith that it does not go down. 2 Peter 1:5 -7 gives us an idea. To add to our faith, Virtue; to virtue knowledge, temperance etc.
Prayer: That our inter-personal relationships improve as couples, friends, brethren in Christ, at our work places etc. For relationships to grow and improve, it takes hard work. Happiness and unity is not automatic. We must put in the work in order to have a beautiful working relationships with others all the time. Humility is work. Forgiveness, sacrifice and love takes a lot of work to make it fruitful.
Prayer: We need God's intervention in our Finances. Money matters is one major headache in life. Money always seem to get depleted. Pray to God for new opportunities, divine favor, knowledge about financial management, gifts from those who are touched to bless us.
Prayer: Committing our hopes, goals, expectations to God. That our expectations and dreams do not fall in the wake of challenging circumstances. The law of Entropy will work to sap all energy out of our dreams but we need to be strong and work it out. Pray to God for the strength to stand up and succeed despite the setbacks.
Prayer: Joshua 1:9. A command has been given: Be strong and of good courage; be not afraid, neither dismayed: for the Lord thy God is with thee wheresoever thy goest. We must keep being strong, keep fighting, keep working, keep being discipline. For God will grant us success if we do not faint.
Wednesday Prayer meeting (English Assembly). Led and Delivered by: Obed Addai (Minister). Church of Christ. Oforikrom, Kumasi, Ghana. 9th Oct. 2019
Reference
retrieved on tuesday, 9th oct. 2019
https://www.quora.com/What-is-the-%E2%80%9CLaw-of-Entropy%E2%80%9D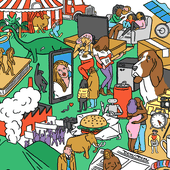 Answer (1 of 8): Entropy (symbol S) is a consequence of the Second Law of Thermodynamics, which states that "In a closed system, unconstrained energy spontaneously tend to disperse, to spread out ...
https://www.quora.com/What-is-the-%E2%80%9CLaw-of-Entropy%E2%80%9D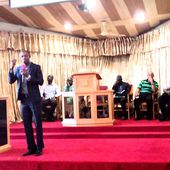 There is Hope If We Don't Give Up. Stay in Faith. - African Reality
Watch and Pray, less you fall into temptation: the spirit indeed is willing, but the flesh is weak. He went again the second time and prayed, saying....... if this cup will not pass away from me ...
http://africanreality.over-blog.net/2019/10/there-is-hope-if-we-don-t-give-up.stay-in-faith.html