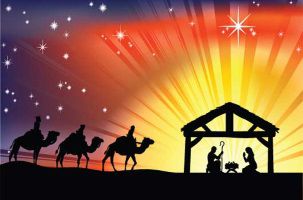 Matthew 2:1-12
The prophets prophesied more than seven hundred years before Christ was born.
Today a Messiah is born in Bethlehem. Glory to God in the highest, Peace and good will to all men. God's favor should always be with his His people.
When we all get to Heaven, what a day of rejoicing that will be.
Where is He that has been born King of the Jews.? We've seen his star in the East and have come to worship him.
Gold, Frankincense and Myrrh were the gifts presented to Christ.
Is the gift given to Christ that financed his journey to Egypt with his parents.
The wise men search and search for Christ. Are you searching for Christ the same way today? What place does the thing of God occupy in your life?
Will you give your Gold or your valuables for the gospel of Christ? What is your investment as far as the kingdom business is concerned?
Giving is the test of your faith. How is your giving like?
You should grow in your giving. The work of God is done with giving not just prayers.
Are we must gave our all to God.
Delivery: Cosmos Owusu Afriyie (Minister). Church of Christ, Oforikrom, Ghana. 07/03/2021